Vakinn – an efficient method of monitoring company internal operation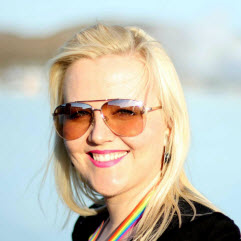 We, in Pink Iceland, took the decision to join Vakinn because we wanted, above all, to be active participants in the development of the country's tourism industry, where issues such as quality, environmental matters, knowledge, integrity, safety and ethics are the company's guiding light.
We regard Vakinn as an efficient method of monitoring our internal operation which is externally reflected to our clients and partners. As soon as we gave ourselves time to sit down and consider what kind of work procedures we wanted to follow in the future, the process of application turned out to be far less complicated than it had appeared to be at first. We were offered assistance from some great people at the Icelandic Tourist Board who provided access to clear and helpful data, which set us on the right path. The biggest step is making the decision to start. Vakinn membership helps us to work better and follow the company's aims which are built to a large extent on the owner's outlook on life; that is the heart of the matter!
A quality control system such as Vakinn encourages a continuous process of improvement and measurable targets as well as increasing the supervision of quality, ethical and environmental matters. Looking to the future, a positive snowball effect will occur within the tourist trade as more and more tourism services decide to participate in Vakinn's sensible way of building up this industry. By doing this it is possible to take a stand in the protection of tourism's most valuable assets, nature and the people.
"Be the change you want to see in the world"
Gandhi
Eva María
Pink Iceland
Vakinn, quality and environmental system, is the right tool for us.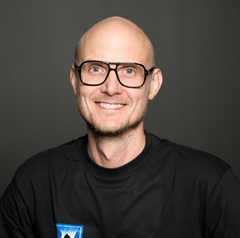 Our product is about creating a unique experience for our clients in the form of diving and snorkeling. This environment of these experiences demands that safety be the absolute priority. Quality and work protocols have therefore been a part of this company from the very start and continue to evolve with us. 
We were thrilled when Vakinn was introduced to Iceland as we strongly believe that customers have the right to know that when they buy a service that it is of high quality and that it is secure. Vakinn quality is in our opinion the correct tool to ensure that the service bought and delivered is exactly that

 Tobias Klose
Dive.is
---
A Vakinn quality stamp supports a stronger and more positive company image
 
A Vakinn quality stamp supports a stronger and more positive company image.
Quality, as well as environmental and safety issues, has long been the key concern guiding the operations of Bílaleiga Akureyrar (Europcar car rental)
The company's quality was confirmed according to the international quality control standards ISO 9001 and by the environmental control standards ISO 14001 at the beginning of 2010.
When the idea for a coordinated quality control system in Iceland was first mentioned, the representatives of our company showed an immediate interest in taking part. The need for introducing such a system within Icelandic tourist services had, indeed, been a long standing topic of discussion. With the coming of Vakinn we now have an important tool with which to support increased quality and safety in the tourist industry. This also gives foreign visitors the opportunity to choose recognised services using a coordinated system which has passed the standards set by an objective party.  These are the criteria which encouraged the company to apply for membership of Vakinn right from the start.
The application and implementation process certainly involved some work, it must be said, but by using the detailed instruction data and with the help provided by the staff of Vakinn, the implementation was simple. It must be pointed out, however, that the previous confirmations of quality, as mentioned above, paved the way considerably. 
The gains achieved by participating in Vakinn are indisputable for those who work according to the rules. Vakinn provides members with a certain discipline based on predetermined criteria intended to ensure quality, safety and a responsible attitude towards the delicate Icelandic nature and the environment in general. A Vakinn confirmation of those factors supports a stronger and more positive company image which is, of course, of utmost importance. Competition within the Icelandic tourist industry has increased greatly over the past few years, both with regards to domestic traffic and when we consider Iceland as a tourist destination. A positive overall image of tourist services and companies as regards quality, safety and environmental awareness is something that everyone must work on in order to ensure a favourable future for the Icelandic tourism. 
I know that with Vakinn we, at Bílaleiga Akureyrar (Europcar car rental), have improved our service even more in the areas of quality, the environment and safety and we will continue to follow this path with constant improvements to all facets of our operations.  
Jón Gestur Ólafsson
Europcar car rental
Everyone benefits
 
We, at my company Humarhöfnin, decided to apply for membership of Vakinn immediately after attending the presentation held by SAF (the Icelandic Travel Industry Association) and the Icelandic Tourist Board. This meeting took place in the spring of 2013 and the whole process, as well as the advantages of taking part in the system were gone into meticulously.

In my opinion it must be of great benefit to all tourism providers in Iceland to be able to gain membership of an organisation which ensures a common quality and safety system where everyone within the same profession must fulfil the same criteria in order to participate.

It must also be an obvious advantage that clients can be sure that everything in your company is in good order, and be certain of the best service possible. What we found most unexpected was how diverse was the Vakinn coverage of the tourist industry. It not only took into account the quality of goods and services but also the standards required regarding planning, operations and company performance.

Of course the whole process and the work required to collect all the relevant data takes some time. This time is, however, in my opinion put to incredibly good use. I believe that it is healthy for all companies to undertake such consolidated self-criticism of their operations, and think that it is an added benefit that we are then prepared for most, or all, of the unexpected occurrences that may crop up in the daily running of the service we provide. One feels satisfied after an overhaul of this type – just as one feels after a major spring cleaning, when everything around you is spic and span.
I sought all the help that was on offer, and found this to be readily available, both from the Innovation Center where this was in the form of courses, telephone conferences, discussions with Áslaug Briem who is the Icelandic Tourist Board's project manager in the field of quality, and from visiting the Vakinn website with its accessible and comprehensive information on every aspect of the matter.
I hope that as many Icelandic tourist service providers as possible see the advantages of participating in Vakinn, so that we can experience the full the strength of a system where everyone benefits.
María Gísladóttir
Humarhöfnin restaurant